| | |
| --- | --- |
| All Systems Go in the Wind Business | |
Thursday, April 30, 2009
Page 1 of 3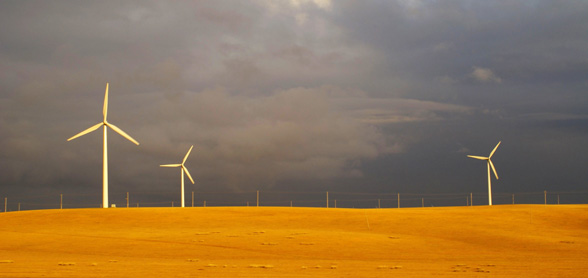 You don't need to be a weatherman to see which way the wind's blowing. In the United States, Texas oilman turned wind energy advocate, T. Boone Pickens, is promoting T-bone size wind energy investment as the solution to America's oil dependency.
In the United Kingdom, in a move described by the British Wind Energy Association chairman as "impressively bold", the Crown Estate, property manager for the royal family, announced an ambitious offshore development program for wind power and investment in the world's largest ever wind turbine (7.5 MW).
In China, the government recently doubled its wind goal to an Olympian 10 GW in the next two years, and in Beijing showcased not only its athletes but also wind turbines.
From West to East, the establishment has embraced wind energy. Tomorrow might belong to solar or biomass or some other renewable energy technology not yet invented, but today wind sits atop the global energy agenda.
Wind energy has come of age on several fronts. In the EU it was the leading source of new electricity generation in 2007, and in the United States it accounted for about 30% of all new power-producing capacity. In terms of direct costs, larger wind farms in windier areas are now considered competitive with many fossil fuel power plants and even superior economically when externalities are factored in.
"Wind power offers today what is arguably the world's greatest potential for future growth of renewables," said Felix Losada, spokesman for the European turbine manufacturer Nordex AG. "Alongside hydroelectricity it is also the most economical to produce. What's more, in good locations electricity can already be produced competitively from wind compared with conventional power stations, especially after the recent increases in the prices of fuels such as oil, coal and gas."
According to Marty Crotty, president of AES Wind Generation and vice president of AES Corp., "To the extent that the EPC [engineering, procurement and construction] costs are on the low end of the expected range or the carbon costs are on the low end of the expected range, wind becomes less competitive. But... both the EPC and the carbon costs have been going up, and to the extent they're in the middle or high end of their expected range, wind is very competitive."